315 West 26th St
Cheyenne, WY
- 82001
(307) 637-5053
41.1411103,-104.822341
Read More
1320 Hugar Avenue
Cheyenne, WY
- 82001
(307) 634-3035
For assistance from the American Legion you must be a veteran and for Temporary financial assistance you must have dependents and custody of your minor children.
41.1563386,-104.806994
Read More
1969 S. Sheridan Ave, Po Box 312
Sheridan, WY
- 82801
307-675-1140
44.7758530,-106.947235
Read More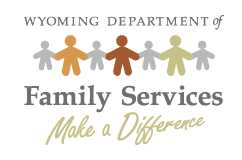 2300 Capitol Ave., Third Floor, Hathaway Building
Cheyenne, WY
- 82002
(307) 777-5468
Their mission Families will assume more responsibility for raising their own children. Communities will asFsume more responsibility for their own families. Wyoming Family Services will facilitate both to help children and families.
,
Read More
415 West Buffalo St
Rawlins, WY
- 82301
(307) 324-7071
41.7888394,-107.239547
Read More
7601 Randall Ave
F E Warren Air Force Base, WY
- 82005
307-773-2241
41.1579719,-104.871798
Read More
710 East Garfield St, Room 127
Laramie, WY
- 82070
(307) 742-4240
41.3097523,-105.588320
Read More
200 West 17th St Suite 210
Cheyenne, WY
- 82001
(307) 635-9291
41.1337810,-104.816329
Read More
1876 S. Sheridan Avenue
Sheridan, WY
- 82801
(307) 672-0475
44.7775672,-106.947426
Read More
Wyoming Get help paying bills Locations